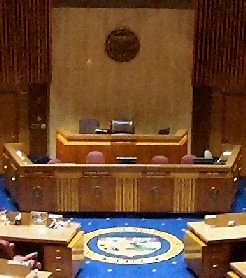 A Senate panel approved renewable energy legislation Wednesday that its sponsor conceded is designed to provoke a new legal fight with the Arizona Corporation Commission.
Rep. Debbie Lesko, R-Glendale, agreed to scrap her original proposal, which would have required the utility panel to get the approval of lawmakers and the governor for any change in rules. An attorney for the Legislature said such a move is unconstitutional.
Her new version of HB 2789 simply says that utilities cannot be forced to obtain more of their power from renewable sources than the current commission mandate of 15 percent by 2025.
Lesko said she believes this simpler version avoids all of the legal problems her first version created by giving one branch of government veto power over the rules of another branch. At the same time, she said, it keeps the regulators from expanding the requirement.
But there's another agenda at work.
"It accomplishes the goal of deciding who can set energy policy," Lesko said. "If the Arizona Corporation Commission ever tries to increase the renewable energy standard, it will probably bring it back to court."
Lesko specifically wants to give the Goldwater Institute, which lost an earlier lawsuit over exactly the same issue, another shot at it.
Attorneys from the Goldwater Institute, representing ratepayers, had challenged the initial rules.
They argued that while the commission is empowered to set rates, it cannot dictate to utilities how the electricity must be generated. Clint Bolick said questions of energy policy are the exclusive purview of the Legislature.
Bolick also objected to allowing the utilities to impose a surcharge on customer bills to pay for the higher costs of solar, wind and other renewable sources.
But the state Court of Appeals disagreed, saying the commission was well within its rights. And the state Supreme Court refused to even review that ruling.
Bolick told members of the Senate Committee on Government Reform the appellate court got it wrong.
He urged lawmakers to approve Lesko's legislation to let him try to make a new set of arguments to the judges. But Bolick said it also is in their own interest.
"It is essential for this body to reclaim its authority over energy policy and the regulation of corporations," he said. "It is essential for the main reason that we need to protect utility consumers against spiraling upward costs."
Sandy Bahr, lobbyist for the Sierra Club, called even the stripped-down version of the measure "blatantly unconstitutional," suggesting that any new lawsuit over the commission's rights will result in the same outcome. And she also chided lawmakers for wanting to ensure that the cap on renewable energy goes no higher than 15 percent, pointing out that California's goal is 33 percent.
The 4-2 committee vote sent the measure to the full Senate.
Source