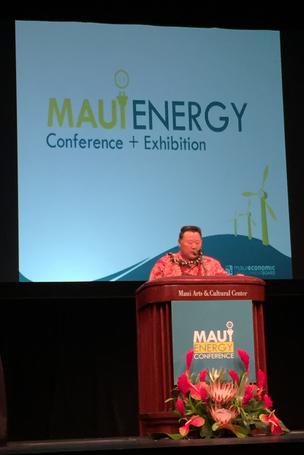 Maui County, which includes the islands of Maui, Molokai and Lanai, is sticking to its ambitious goal of becoming the first islands in the United States to achieve 100 percent renewable energy.
Maui Mayor Alan Arakawa, a speaker at the Wednesday kickoff of the Maui Energy Conference, noted that other islands elsewhere have gone off the grid, including islands in the Caribbean.
"The goal is real and attainable, using proven technology, including wind, solar and storage," he said. "It's about freedom, self-sufficiency and sustainability."
Because of price fluctuations by fossil fuel sources, more and more island states and nations are becoming dependent on renewable resources, Arakawa said.
"I would like Maui, Molokai and Lanai to be the first in the U.S. to be 100 percent renewable," he said. "I'm in my third and final term, and Maui County's goal is still 100 percent renewable."
More than 23.5 percent of the power generated in 2013 by Maui Electric Co. was fueled by renewable sources such as wind or solar photovoltaic.
Blue Planet Foundation, the Honolulu renewable energy-focused nonprofit, says that, based on progress to date and the rapid advances in clean energy and energy storage technology, it supports legislation to mandate Hawaii receive 100 percent of its energy from renewable sources by 2040.