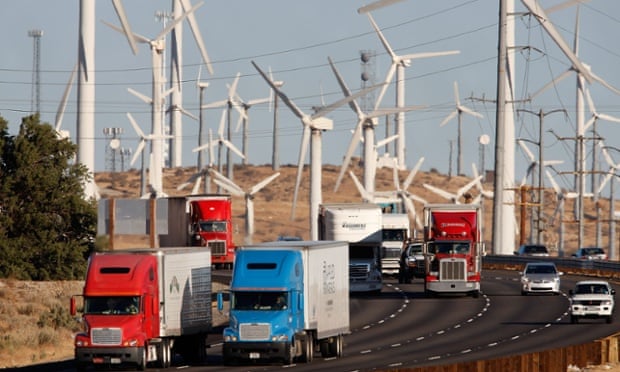 More electricity from renewables, fewer gasoline-powered vehicles and lower power consumption by buildings mandated under '50-50-50' agenda.
Californian lawmakers want 50% of electricity from renewables and 50% less petroleum used on the roads by 2030.
California lawmakers have passed a dozen ambitious environmental and energy bills setting high goals for reducing greenhouse gas emissions and petroleum use, and creating new standards for energy efficiency.
Dubbed the California climate leadership package, the 12 bills represent a Democratic-driven push in the Senate to advance an agenda of technological innovation and conservation that was put into play by an executive order by California Governor Jerry Brown in April. The package will next move to the assembly for debate.
One of the cornerstones of the program is SB 350, which calls for a "50-50-50" reduction in major areas of climate concern. It mandates a 50% reduction in petroleum use by vehicles by 2030, the equivalent of removing 36m cars and trucks from the road.
It also calls for 50% of the state's electricity supply to be derived from renewable resources by that date, and 50% better energy efficiency in buildings through retrofits and upgrades.
"California has demonstrated our global climate leadership over the last decade," said Senate president Kevin de Leon after the passage of SB 350. "These policies will further cement our leadership, further strengthen our economy and protect the health of our communities."
Another cornerstone of the legislative package is SB 32, which continues executive orders first made by then-governor Arnold Schwarzenegger in 2005 and later passed by the legislature in California's groundbreaking 2006 climate change law, which created cap-and-trade emissions requirements for large industrial polluters like oil refineries and power companies.
SB 32 increases those pollution reduction goals – specifically from manmade greenhouse gases, requiring the state to reduce emissions to 40% below its 1990 levels by 2030, and then increasing that to 80% below 1990 levels by 2050.
The bill's author, Senator Fran Pavley, pointed out that the state was on track to meet the old goals set by the previous bill. Calling the targets "science-based numbers", she added that the creation of new technologies was key to meeting those objectives. California has long prided itself as a center of invention, and Pavely expressed confidence that the state could find progressive ways to meet the increases. "I bet right now there is some 20-year-old in some parent's garage coming up with the next new innovation," she said.
SB 350 passed by a 24-14 vote and SB 185 passed by a 22-14 vote along party lines.
Other bills in the package included measures to push public pension plans to divest in coal companies, require cities to include climate considerations in their general plans, and a proposal to study atmospheric rivers to increase water supply reliability.
Critics of the legislation, especially SB 350, said the measures would lead to further economic hardship and job loss. The senate Republican caucus opposed many of the bills, calling them unfair to inland parts of the state that rely on traditional industries such as agriculture and trucking, while favoring coastal areas that have more technology-driven economies.
As California has rebounded from the recession, those rural inland areas have seen less job growth and higher unemployment than larger metropolitan areas with more diverse economies. Many voiced concern that the bills would push companies – and work – into other states while overall doing little to impact climate change.
"What I see in our emerging economy is coastal-elite winners and the inland rural losers," said Senate minority leader Bob Huff before voting against SB 350. "The fact is we are using fossil-based fuels to feed the world … when we stop burning fuel, coal for fuel, that doesn't stop Arizona or Oregon or other states from doing it, or China. And so we have a very lofty and noble goal, but other than feeling good about it, what does it actually accomplish?"
De Leon, who represents a district centered in Los Angeles, later called the threat of job losses "scare tactics" and countered. "We can't be negative Nellies and Debbie downers and doomsday preachers that there is going to be economic peril."
He added that creating jobs was a focus of the legislation, and citied previous actions such as Proposition 39, passed in 2012, which provided funds for green retrofits in schools, and created jobs performing that work.
"You can't argue with a job that has been created," he said. "We can put people to work. But everyone has to be on the same page … It has to be done with a sense of intentionality, with a sense of purpose. That's what we're about."