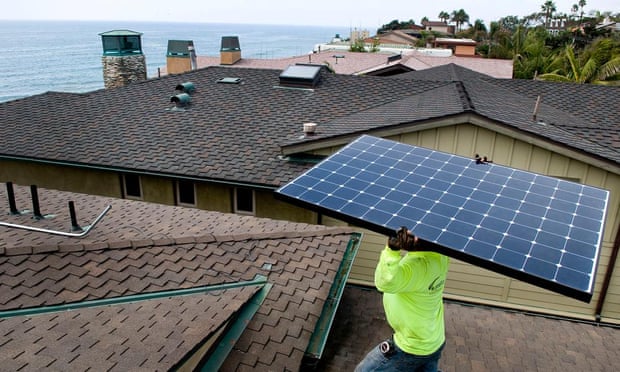 US energy secretary announces new office of technology transitions to help facilitate financing by connecting would-be investors with clean-energy firms.
With $4bn and a new government office, the White House has unveiled its latest clean energy initiative and cast a subtle new role for the federal government: not only is it a funder of new research, of the latest solar converter or biofuel source, but it is also a market builder.
"One of the real challenges is the gap in financing clean energy," said Ernest Moniz, US secretary of energy, at a press conference on Monday. "There is a continuing need for new capital investment."
The new initiative follows on a White House pledge in February to organize mission-driven renewable energy investors, concentrating their impacts and providing information to would-be investors daunted by an unfamiliar clean-energy landscape.
At the press conference on Monday, Moniz and senior advisor Brian Deese fleshed out the details: $4bn in commitments from pension funds, family foundations and other so-called impact investors, and a newly unveiled office of technology transitions that will serve as an all-purpose informational resource for clean-energy investment.
"We will not make investment decisions, or directly engage in them," said Moniz, but rather provide information to help guide discussions of people not already steeped in the field. While providing information sounds nebulous, it's arguably what renewable energy needs most now: not new breakthroughs, but something to catalyze investments that can make existing breakthroughs go mainstream.
The initiative represents the latest stage in the Obama administration's clean-energy policies. In some quarters, these are still synonymous with Solyndra, the California-based solar cell manufacturer that went bankrupt after receiving $535m from the US department of energy.
Yet that reputation is mostly unfair – and not just because the loan program responsible for the Solyndra deal is expected to turn a $5bn profit. The US now leads the world in wind energy production; the price of solar energy has plummeted, and adoption jumped.
The administration's policies "made a tremendous difference in driving the cost of these technologies down", said Nathanael Greene, director of the Natural Resources Defense Council's renewable energy policy program. The challenges now, he said, are not so much technical as logistical.
These range from solar-panel zoning standards to helping investors understand the clean energy investment space. It can be confusing, said Greene, particularly for investors unfamiliar with both the technology and the sorts of financial arrangements used in impact investments seeking both profit and social good.
"The program will help explain the technology, the stages of investment. It will pave the research landscape," said Greene. "This is about helping the private sector understand and invest in clean energy."
The announcement also comes just more than a year after the Obama administration announced its plan to cut carbon pollution from power plants by30%, and with Congress having recently found rare bipartisan agreement on energy efficiency.
At the press conference, several reporters pressed Moniz for details on what the new investment landscape would look like. How would the $4bn in investments differ if made independently, rather than under the auspices of the new initiative?
"I can't give you an example yet," said Moniz, "but check back in a year. I hope I'll have a bunch."