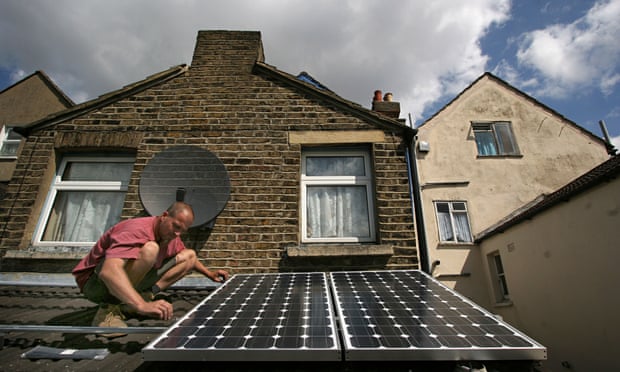 The Conservative party has spent much time mocking Labour for being out of touch on business issues, particularly Jeremy Corbyn's support for rail and possibly energy nationalisation.
But George Osborne seems much more at home tickling the tummies of huge, state-owned companies in China and France, especially with regard to nuclear power, than tending his domestic, private-sector firms. While the chancellor was out wooing on a recent trip to Beijing, he seemed blissfully unaware that subsidy cuts to the UK's growing army of small and medium-size "green" companies have been causing havoc.
Last week, the true scale of his destructive policies became clear when one of the largest providers of solar panels in Britain, the Mark Group, collapsed into liquidation with the loss of almost 1,000 jobs. It was not long before a second solar and insulation provider, Climate Energy, bit the dust and now the Solar Trade Association predicts that dozens of firms and 27,000 employees are in danger. Mark Group was happy to make clear where the blame should lie, saying the government's "draconian policy proposals… will essentially eliminate the solar PV market in the UK". The Department of Energy and Climate Change has denied this, claiming it's all down to "commercial decisions". It has the unenviable task of implementing the policies on renewable energy, but few are in any doubt that the orders come from the Treasury, which is on a wider mission to bear down on all costs.
The latest proposal, to cut solar subsidies by 87%, is just another in a long line of changes that have hit energy efficiency, onshore wind, biomass and many other sectors that create jobs and a lower-carbon economy. These cuts look particularly irresponsible in the run-up to the UN climate change talks in Paris, but at any time it is odd to see a party that wants to make Britain greater showing little time for nurturing a new business sector.