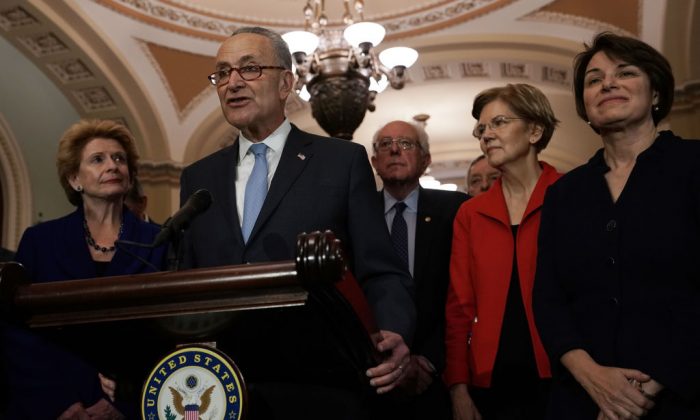 Tying infrastructure bill to climate change will be 'dead on arrival,' says expert.
President Donald Trump signaled that infrastructure could be a key area of focus next year, which has been a priority for Democrats for decades. Democratic congressional leaders, however, are coming up with legislative demands that may impede Trump's much-hoped-for infrastructure reform.
In an op-ed for The Washington Post, Senate Minority Leader Chuck Schumer (D-N.Y.) calls for "massive" spending on renewable energy, as a condition for approving Trump's infrastructure plan.
"If the president wanted to earn Democratic support in the Senate, any infrastructure bill would have to include policies and funding that help transition our country to a clean-energy economy and mitigate the risks the United States already faces from climate change," he wrote.
Schumer also lists the types of policies Democrats expect to see in an infrastructure bill. He calls for "massive investments" in climate resiliency and renewable energy, especially in technologies such as battery storage.
"We should provide permanent tax credits for clean-energy production and storage, electric vehicles, and energy-efficient homes," he continues.
He also pushes for measures to "reduce the release of methane pollution from domestic energy production" and cut "the amount of carbon we release into the atmosphere."
These requests mean imposing considerable costs on American taxpayers, according to Nicolas Loris, an economist and environmental policy expert at The Heritage Foundation.
"Introducing climate into an infrastructure package only creates more division among members of Congress," he said. "It's been pretty clear that ever since cap-and-trade legislation failed there's been no real appetite to move any big climate bill because of the cost and the negligible climate benefit that you would get from it."
'Dead on Arrival'
In June 2009, the U.S. House of Representatives passed the American Clean Energy and Security Act of 2009. The legislation aimed to establish an economy-wide greenhouse gas cap-and-trade system under which the government would set a limit on total emissions. Companies would then buy or sell permits to emit these gases. The measure, however, died, as it never reached the Senate floor for discussion or a vote.
According to Loris, if Democratic demands are introduced into an infrastructure package, it will be "dead on arrival."
That's "the opposite direction of which this administration and a lot of members of Congress want to go, especially given in light of what you've seen in France over the past few weeks and revolts against these energy taxes," he said.
Democrats will control the House of Representatives in the 116th Congress. But Senate Democrats will have substantial leverage as well, says Schumer in his op-ed. The Senate needs to garner 60 votes for an infrastructure bill.
Schumer claims that his proposed plan can be fully financed by reversing some of the corporate and individual tax cuts passed last year.
Trump has been calling for an infrastructure overhaul since the start of his presidency. He has called on Congress last year to produce a bill that generates at least $1.5 trillion for the new infrastructure investment to fix the nation's roads, bridges, airports, railways, and ports.
He also signed an executive order to speed up the environmental review and permitting process for infrastructure investments. The order aims to fix the fragmented approval system and shorten the time for processing approval documents for infrastructure projects. Congress now has to codify these changes into law.
The American Society of Civil Engineers gave a near-failing D-plus grade to U.S. infrastructure last year. And the grade extends across every state and every asset class in infrastructure.
On Dec. 10, Trump is set to meet with Schumer and House Minority Leader Nancy Pelosi (D-Calif.) to discuss a budget deal and funding of a border wall. Infrastructure reform may also be brought to the table during the meeting.
"The real issues should be fiscal responsibility and long lasting regulatory reforms that allow for infrastructure to actually be built in a reasonable timeframe," Loris said, adding that there's still a hope of getting bipartisan support to fix the nation's broken permitting process. The regulatory hurdles affect all infrastructure investments including renewable energy projects.
A lot of the renewable energy projects in the country "have been stalled in regulatory red tape," he said.
"There's a lot of room to get some of those long-lasting regulatory reforms that the country desperately needs to encourage more investment and innovation in infrastructure."