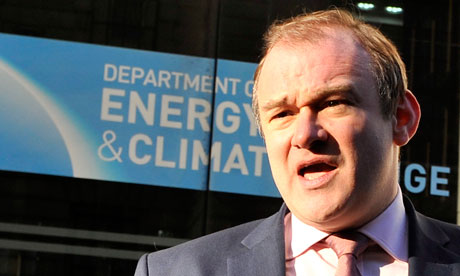 The Government plans to introduce additional powers in its draft Energy Bill to provide certainty about the details of energy regulation that investors are looking for, the Energy Secretary has announced.
Addressing senior industry figures at an event hosted by the Confederation of British Industry (CBI), Ed Davey confirmed that a new version of the Bill would be published next month. An early
draft
(307-page / 1.9MB PDF), made available for 'pre-legislative scrutiny' in May, has been criticised by the industry for leaving much of the detail of the Government's flagship Electricity Market Reform (EMR) programme to be covered by later secondary legislation.
In his speech Davey said that the coalition Government was "absolutely committed" to getting its reforms right "through legislation and through the signals we send".
"Low carbon is a fast-growing sector, where we know there are shovel-ready projects ready to create jobs and inject investment into local economies up and down the UK," he said. "This vital infrastructure will power our economy and keep energy affordable for decades to come."
He said that the Government would legislate for a Capacity Market, including long-term incentives to ensure reliable electricity supplies, in the next draft of the Energy Bill. The Government was also seeking powers as part of the new Bill to give the market certainty on the arrangements for a new system of financial incentives for renewable energy developers, known as Contracts for Difference, he said. It was also "looking closely" at the introduction of additional powers to promote more competition in the energy market, particularly from independent renewable generators.
He also hinted that future reform could see the introduction of a "decarbonisation target range" for the power sector, saying that many investors had made a "strong case" for its introduction.
Energy law expert Euan McVicar of Pinsent Masons, the law firm behind Out-Law.com, said that Davey's speech contained "tacit recognition" that more needed to be done to make investment in energy projects attractive to investors.
"Competition and liquidity in energy markets is vital to the growth of the sector going forward and much attention will be on how quickly the Government articulates what it has in mind," he said. "It is important that this examines the need for competition in the writing of power purchase agreements and not just 'technical' liquidity in the wholesale markets where the same players buy and sell each other's power."
Independent electricity generators typically rely on long-term PPAs in order to secure the finance they need to invest in generation technologies. A PPA allows the generator to offset some of the risks of the project onto a counterparty, who will in exchange be able to take advantage of a cheaper guaranteed price for the electricity generated. The Government published a call for evidence (20-page / 140KB PDF) on possible action to make it easier for small companies to obtain PPAs on competitive terms in July, following anecdotal evidence of a "deterioration" in the terms available to generators seeking to enter into the agreements.
The Government has claimed that EMR will bring about the widest reforms of the electricity market since privatisation. It proposes a new system of financial incentives designed to ensure that low-carbon forms of electricity generation can compete fairly in the marketplace, backed with a 'capacity market' aimed at ensuring that consumers continue to benefit from reliable electricity supplies at an affordable cost.
The new Feed-in Tariff with Contract for Difference (FiT CfD) will offer producers of low carbon power, to include nuclear as well as renewable energy sources, a fixed price for energy supplied to the National Grid. The capacity market will enable the National Grid to purchase the total volume of generation capacity it requires through a central auction including all providers will to offer capacity, and offer incentives for energy companies to invest in new capacity or keep existing capacity operational.
Davey said that action was "already underway" to provide greater certainty to investors around how the new CfD would work, including the publication last week of a call for evidence by the National Grid to help inform how the first 'strike prices' would be set. Payments made under the CfD will be calculated with reference to these prices, which will be technology-dependent and will enable the system operator to 'claw back' money from generators if the market price for that power is higher than the strike price.
In his speech, Davey said that the Energy Bill would set out the Government's choice of payment model for CfDs including details of a strong, single counterparty that could "give [industry] the certainty you need to come forward and invest". He also proposed giving developers "much earlier certainty on allocation of contracts" by allowing them to enter into a CfD as soon as relevant planning approvals and grid applications were agreed. The Government would also set out more details of the capacity market scheme "later this year", he said.
"Visibility on the price setting for the Contract for Difference will be welcomed," energy law expert McVicar said. "Given the growing concerns in the international investment community just now it is important that proposals on this come through quickly. The capacity market proposals are interesting, and it may be that these will help deliver the perceived interest that George Osborne and others have in facilitating a rosier prospect for gas-fired projects."
The Government's new Growth and Infrastructure Bill will also contain proposals to reduce regulatory burdens and encourage investment decisions, Davey said. Once approved, the Bill will simplify the process for varying consents under the Electricity Act so that developers will in most cases only need to undertake a three month consultation if they want to apply to change their projects, rather than forcing them to restart the planning process.