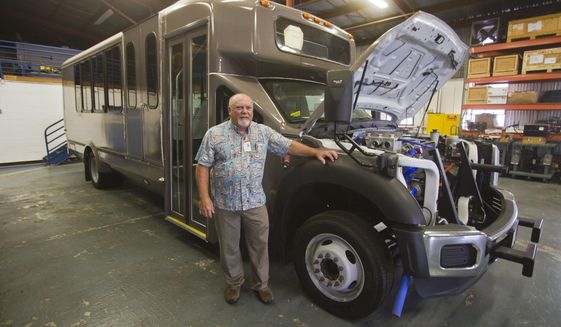 Hydrogen-powered vehicles are beginning to roll onto Hawaii's transportation scene.
Two 25-seat hydrogen-powered buses will soon be shuttling tourists between the visitors center and the Thurston Lava Tube at Hawai'i Volcanoes National Park, and hydrogen might someday fuel the Wiki-Wiki shuttles at Honolulu Airport.
There are two hydrogen fueling stations on Oahu: one at Marine Corps Base Hawaii at Kaneohe Bay and one at Joint Base Pearl Harbor-Hickam. They serve several vehicles on the bases but are not available to the public.
Hydrogen fuel vehicles run on hydrogen gas rather than gasoline and emit no harmful tailpipe emissions. Toyota introduced a fuel-cell car, the Mirai, last year.
Gov. David Ige signed a bill into law in June creating a state working group for hydrogen.
"As soon as it was signed, I already had a working group ready to stand up," said Stan Osserman, director of the Hawaii Center for Advanced Transportation Technologies.
Osserman's company is converting to hydrogen the two 25-seat buses for Hawaii Volcanoes National Park.
Hydrogen-fueled cars have two main advantages over their battery-powered rivals, said Salim Morsy, a New-York based analyst for Bloomberg New Energy Finance. They are faster to refuel and have much longer ranges than electric ones. A hydrogen car can refuel in five minutes and go 400 miles on one tank.
Many electric vehicles take up to seven hours to charge and can travel only 200 miles on each charge.
Hydrogen cars also have disadvantages. Producing the hydrogen can involve burning fossil fuels and contributing to greenhouse gases. The current lack of fueling stations also makes the vehicles impractical.
Still, Osserman said Hawaii and federal officials are planning to convert state vehicles to hydrogen and support the electric grid with the renewable fuel.
Two hydrogen fueling stations planned on Hawaii island at Volcanoes National Park will be the first to serve the public.
Mitch Ewan, systems program manager for Hawaii Natural Energy Institute, said the first station for shuttles on the Big island would be in place by the end of September and the second one at Volcanoes National Park in October.
Ewan said adding the stations will help the deployment of hydrogen in Hawaii as the institute has seen a lot of interest from automobile dealers.
"The automobile dealers are all in now. The challenge for us is to have minimal infrastructure in place for someone to fuel their vehicles,"he said.
Energy leaders listed transportation as a crucial aspect of Hawaii's campaign to break from fossil-fuel use since imported oil supplies 90 percent of the state's energy needs. The transportation sector alone accounts for two-thirds of the state's energy consumption.
In an energy analysis draft released in June, the state Department of Business, Economic Development and Tourism listed hydrogen-powered vehicles as one alternative that will help the state reach its goal of cutting the use of fossil fuels for ground transportation by 70 percent by 2030.
The transportation goals are separate from the state's goal to have 100 percent of its electricity generation come from renewable resources by 2045.
Osserman said the hydrogen working group wants to convert the Wiki-Wiki buses at Honolulu Airport to the cleaner fuel.
"The new Department of Transportation director has been super supportive," Osserman said. "We are looking to build a hydrogen station near the airport on state land. We would basically be able to produce hydrogen near the airport to showcase the Wiki-Wiki buses as how clean energy is supposed to be done."
Hydrogen could also help smooth out fluctuations in power generation for Hawaii's electrical utilities as they add more renewable energy resources, such as wind and solar, to the grid, Osserman said.