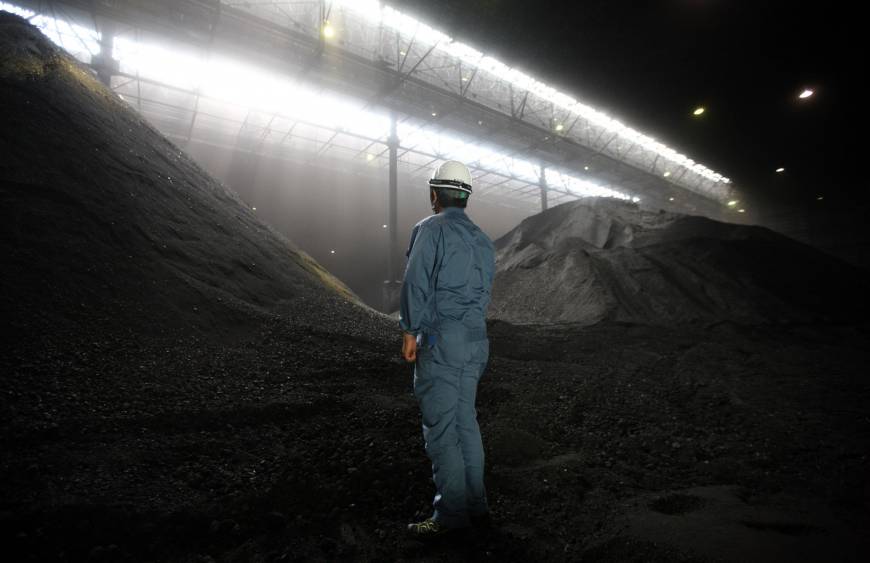 The Japanese government has been warned that its pro-coal policies are creating a "bottleneck" in international climate talks — and that the country risks being left behind in the global green energy boom. Foreign Minister Taro Kono received the strongly worded assessment from his advisory panel on climate change on Feb. 19. The document provides food for thought for policymakers in Tokyo as Kono signals his determination to remedy what he recently described as a "lamentable" situation.
The nine-member panel — which includes business leaders, researchers and conservationists — called for a transformation of the way Japan engages with the international community on energy issues. It said, "Japan's energy diplomacy thus far has focused on efforts securing fossil fuel resources; it should now situate renewables as a core of the pillars of the diplomacy in order to realize a sustainable future in collaboration with other countries."
Perhaps the peak of Japan's climate diplomacy — at least in symbolic terms — was the hosting of the 1997 conference that adopted the Kyoto Protocol, which set the first legally binding emission targets for developed countries. But Japan lost its enthusiasm when it came time to sign up to the second Kyoto commitment period, insisting that developing countries such as China and India must be meaningfully involved. Tokyo ultimately embraced the 2015 Paris accord — based on nationally determined, nonbinding targets for each country — with a pledge to reduce Japan's greenhouse gas emissions by 26 percent by 2030 (against 2013 levels).
The advisory panel noted, however, that the country's dependence on coal-fired power seemed to be increasing. This was drawing "severe criticism" from the international community and becoming a bottleneck of Japan's diplomacy in climate forums. "After the Paris agreement came into effect, Japan's new construction plan of coal-fired power plants amounting to around 17 gigawatts and the government-led support for exporting coal-fired power plants to developing countries have come to be discussed more frequently at international conferences," the report said. What's more, if these domestic plants are built, a related goal of limiting coal to about a quarter of the country's 2030 electricity supply may become "impossible to achieve."
The elephant in the room is nuclear power. The meltdowns at the Fukushima No. 1 nuclear power plant in 2011 have had a far-reaching impact on the industry. Just five of the nation's 40 operable nuclear reactors are running at present, according to the Japan Atomic Industrial Forum, as operators face legal challenges and regulatory hurdles.
The industry ministry projects that nuclear power will provide 20 to 22 percent of the energy mix in 2030, compared with 22 to 24 percent from renewable sources such as solar, wind and hydropower. Environmental campaigners have long branded the nuclear target as unrealistic and raised concerns that the shortfall may be met by fossil fuels. Now the advisory panel has said the country should reduce its nuclear dependence as much as possible as it is a "high investment risk."
The report was not entirely negative about Japan's efforts to develop renewables. After the nuclear accident, it acknowledged, Japan introduced a feed-in tariff that has helped drive growth in solar systems to 5 percent of the entire electricity supply in just five years. But the panel added that the pace of other renewable sources was stagnant and the target was too low to send the market a message about future expansion. Network connection issues also made it difficult for investors to predict stable profits. This area looks ripe for further reforms that would have the added consequence of boosting Japan's credibility in climate negotiations.
The panel called for an expansion of climate-related official development assistance and increased support for renewables in developing countries. Japan, it said, should also promote decentralized renewable energy models that can continue to supply electricity when broader network infrastructure fails. The report further argued that Japan should raise the presence of nonstate actors that were helping to drive decarbonization efforts: "The new Japanese diplomacy should create a network among domestic pioneer companies, municipalities, NGOs, and it should also develop communication of the roles of these actors to the world in partnership with the civil society."
It's worth emphasizing that the recommendations are not yet government policy, and many touch on domestic issues that are not directly within Kono's control — even though the foreign minister seems receptive to the key points. Kono gave a forceful speech in Abu Dhabi in January in which he said Japan had prioritized keeping the status quo for fear of change. He argued Japan's renewable energy goals for 2030 were low considering that the sector already accounted for 24 percent of the global energy mix. "As Japanese foreign minister, I consider these circumstances lamentable," he said, pledging to embrace new ways of thinking.
That potentially places Kono on a collision course with the powerful industry ministry, which has traditionally backed the nuclear and coal sectors, and is conducting its own review of energy policy. Debate within government circles is likely to intensify when Kono's panel delivers another report in April.